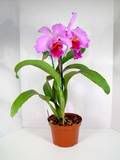 Cattleya orchids are special types of orchids that look a very rich and grand appearance and please everyone's heart. Hence, they are chosen for some of the prominent occasions such as corsages and others.
You may witness, different varieties of habitat of cattleya orchids. Born in the Central America, these flowers are known to have a prominent presence all over the Amazon region. You may find some of the endangered varieties of cattleya in the region that looks simply beautiful and amazing. They look favorable in many occasions and amuse the receiver with their great looks.
These flowers mainly have a strong 'pseudo bulbs' which is topped over velvety leaves. Every year, a new shoot grows on the dormant bud and thickens the existing pseudo bulb. Soon after, a fresh flower comes into existence in many different colors from purple, pink to even white. Also, you can get green-colored cattleya orchids as well.
Hybrids:
Nowadays, many hybrids varieties have been developed over the years. Some of these can be easily grow and flower. Many of great varieties such as Sophronitis and Brassovola are the hybrid varieties of cattleya.
by.Jack Martinwood